Profile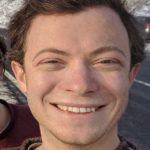 Max Jamilly
Curriculum Vitae
Education

Highgate School, 1995-2010; University of Cambridge, 2010–2014; University of Oxford, 2015–

Qualifications

A-Level Biology, Chemistry, Maths, Further Maths, French, Russian; BA (Hons.) Natural Sciences; MPhil Biotechnology Enterprise

Work History

I'm still a student! But I've worked in labs and and biotech companies in the UK and Boston, USA, and teaching marine biology and scuba diving in exotic places like Egypt, Indonesia and the Caribbean.

Current Job

I'm a PhD student in Synthetic Biology at Oxford University

Employer

I work in Tudor Fulga's laboratory in the Weatherall Institute of Molecular Medicine at the University of Oxford. My PhD programme is run by the Synthetic Biology Centre for Doctoral Training.
About Me: I'm a PhD student at Oxford using gene editing to understand cancer. I love teaching people about my work and sharing ideas.

Read more

Hi! I'm Max. I'm twenty-five years old. I grew up in London but now I live in Oxford, where I'm studying synthetic biology for my PhD. I'm really passionate about using biology to make people's lives better. When I'm not in the lab, I love to travel, explore and learn languages. On the weekends, I run, cycle, cook and scuba dive (not all at once); I'm also on the uni sailing team. My favourite book is The Glass Bead Game and my favourite film is Dumb and Dumber.

After school, I went straight to Cambridge where I studied Natural Sciences and then did a master's degree in biotechnology, learning how to build businesses based on new inventions in biology. I took a gap year to teach marine biology, sailing and scuba diving around the world and then I moved to Oxford. After my PhD, I would like to start a company to help develop new immune therapies.

I am passionate about understanding how the human body works so that I can contribute to medicine. I love what I do: I have so much freedom to explore the things I'm curious about and I get to use my brain every day, surrounded by a fun crowd of clever people full of great ideas.

My Work: I turn genes on and off to understand why white blood cells can cause cancer.

Read more

I'm studying on a PhD programme at the University of Oxford. I work every day in a molecular biology lab at the Weatherall Institute of Molecular Medicine. At the end of four years, I'll be able to carry on working in an university lab or do biology research in a company, for example one which develops and sells new medicines. (And yes, I'll also be able to call myself "Dr"!) My colleagues are other biologists, chemists, medical doctors and bioinformaticians (computer experts who work with biological data).

White blood cells are a very special kind of cell in the human body. Made in the bone marrow, they live in our blood and monitor the body for signs of foreign invasion or infection. If they detect anything, they control the body's immune response by sending messages to other cells and killing the invaders. White blood cells can even remember an infection so that they respond to the same infection more quickly the next time.

Leukemia is a dangerous kind of cancer which affects white blood cells. Hundreds of thousands of people die from leukemia every year because their white blood cells don't work properly, or because the cancer spreads to other parts of their body and causes damage there too.

My work focuses on understanding what goes wrong in normal blood cells and how we can fix it using medicines. I use an amazing technology called CRISPR genome editing to turn on and off the genes in white blood cells and see what happens. It's a bit like pressing buttons on the TV remove and watching what happens on the TV. By doing this, I can slowly understand how these genes contribute to leukemia.

My research field is called synthetic biology, a new kind of biology that tries to use what we know about genes and proteins to build special kinds of tools for research or medicine.

My Typical Day: Feed the human cells that I grow in dishes, explore their DNA, talk to scientists all over the world, come up with new ideas

What I'd do with the prize money: I want to start a podcast series, visiting schools to chat with students about immune disease and gene editing.

My Interview

How would you describe yourself in 3 words?

biologist, student, adventurer

What was your favourite subject at school?

biology

What did you want to be after you left school?

I wanted to start a biotechnology company and develop medicines to improve people's lives.

Were you ever in trouble at school?

Yes! Once I got a bit carried away in the chemistry lab...

If you weren't doing this job, what would you choose instead?

What could be better than being a scientist! OK, maybe an explorer.

Who is your favourite singer or band?

Stormzy

What's your favourite food?

Marshmallows. They are PERFECT.

What is the most fun thing you've done?

Once I drove from Scotland to Tajikistan (and back) with some friends

If you had 3 wishes for yourself what would they be? - be honest!

1) shrink myself so I could explore inside a human cell; 2) perfect memory; 3) breathe underwater

Tell us a joke.

Why do scuba divers fall backwards off the boat? If they fell forwards, they'd still be in the boat.
---
---
---