Profile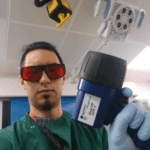 Francis Man
Curriculum Vitae
Education

University of Strasbourg, France (2004 to 2010), King's College London (2012 to 2016).

Qualifications

MSc (chemistry&biology), PharmD, PhD (chemical biology)

Work History

I've worked for the Council of Europe (European Pharmacopoeia). I've also worked in a pharmacy, and did internships in a hospital and in research labs.

Current Job

Post-doctoral researcher in radiochemistry

Employer
Favourite thing to do in my job: Doing a completely new experiment. I love the feeling of being the first to try something and not knowing what will happen.

About Me: I'm a mix of a biologist and a chemist. I couldn't decide so I chose to be both.

Read more

When I finished school I wasn't too sure what to do but I found chemistry cool and biology interesting. So I went to study pharmacy because it's mostly about applying chemistry to human health.

I find immune cells fascinating so I try to understand how they work. I also love making new molecules, so I try to make some useful ones that can help us understand how cells work, or (even better) cure diseases.

My Work: I make radioactive molecules to follow immune cells that kill cancer

Read more

In my group we work on new treatments that use the patient's own immune cells (the T cells) to fight cancer. My job is to make these cells radioactive so that we can "see" them inside the body using a PET scanner (it's a large detector that can tell quite precisely where and how much radioactivity there is inside the body). We know that these cells can cause toxic reactions inside the body if they go somewhere unexpected (in the brain for example), so it's important to know precisely what's going on.

For that, first I need to make ("synthesize", as chemists say) a radioactive molecule that will go inside the cells. Normally radioactive molecules can't cross the cell membrane so I need to modify them, that's the chemistry part of my work.

Now for the biology, I need to get some T cells, so I ask volunteers to give some blood (I only need about 2-3 tablespoons). I separate the white blood cells from the rest of the blood, and grow only the T cells (actually only a very specific type of T cells), in a flask. They will multiply and after a week or two I can get many cells to experiment with.

Then I mix the cells and my radioactive molecules, and I do all sorts of tests. I want to know if the radioactive molecules actually go inside the cells, then how long they stay inside, and if they're toxic to the cells. I also test if the T cells are still able to kill cancer cells (we can also grow those in a flask).

If all that goes well, I can do an actual "live" experiment with the cells. For that we use mice that have cancer. I inject the radioactive T cells into the mice, and use a PET scanner (like for humans, but smaller) to see where they go.

I get to do many different types of experiments and use lots of different machines, which makes work very interesting.

My Typical Day: The best thing is that it's different every day. But usually I do experiments, then I analyse the results, and plan the next experiment.

Read more

There are days with experiments, and days without experiments where I spend more time reading, attending meetings, writing or teaching.

The best thing is that there is no routine. Sometimes I might do the same experiment for several days or weeks, but after that I move on to a different type of experiment. I have a main project, and then a lot of side projects where I help colleagues with specific parts of their projects.

Another great thing is that I'm free to organise my time as I wish, it's not a 9-to-5 job. I also get to travel sometimes, for conference. It's great because I get to present my work to scientists from all over the world, and meet people whose research I've been reading about.

What I'd do with the prize money: I'd like to give talks about medical research to people who aren't scientists. I feel there's a gap between what we do and what people imagine about scientists.

My Interview

How would you describe yourself in 3 words?

Immunology-loving chemist

What or who inspired you to follow your career?

I had (biology and physics) teachers at school who were incredibly passionate, and I wanted to have a job where I felt I would be doing something useful

What was your favourite subject at school?

Chemistry

What did you want to be after you left school?

A chemical engineer

Were you ever in trouble at school?

Not really, I was more of the quiet type

If you weren't doing this job, what would you choose instead?

Maybe a chef? I can't really imagine not being a scientist.

Who is your favourite singer or band?

It's hard to pick just one...

What's your favourite food?

Chinese pork buns

What is the most fun thing you've done?

Taking a tiny plane (3 seats!) to go camping on a remote island

If you had 3 wishes for yourself what would they be? - be honest!

1: To have more time to research all sorts of ideas. 2: to discover something really important (like a super-useful medicine) 3: more wishes

Tell us a joke.

A horse walks into a bar. The barman asks: "why the long face?"
---
---